7th Annual Rural Tobacco Summit
Suwannee River AHEC is proud to present its 7th Annual Rural Tobacco Summit. Scheduled for April 1, from 9 a.m. to 5 p.m., the summit will focus on reducing nicotine addiction through a clinical and community approach. All healthcare professionals, community educators and tobacco specialists are invited. A free lunch will be served.
Many individuals are well aware of the need to quit the consumption of tobacco products, but without support and/or guidance this task can be daunting. The summit will highlight this issue and more, including addiction in pregnancy, metal health and tobacco, and e-cigarettes.
The summit will take place at the Ravine Gardens State Park, located at 1600 Twigg St., Palatka.
Co-sponsoring the summit are North Central Florida Cancer Control Collaborative and Putnam Community Medical Center.
To register online, visit stellaredsolutions.org.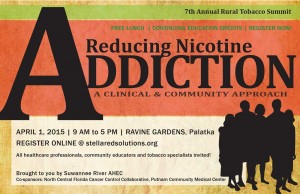 Back to News page