Community Health Improvement Plans
WellFlorida is conducting Community Health Improvement Plans (CHIP) for Bradford, Columbia, Hamilton, Hernando and Union Counties, which will be released at the end of June 2014.
According to the Centers for Disease Control and Prevention, the Public Health Accreditation Board defines a community health improvement plan as a long-term, systematic effort to address public health problems on the basis of the results of community health assessment activities and the community health improvement process. This plan is used by health and other governmental education and human service agencies, in collaboration with community partners, to set priorities and coordinate and target resources. A community health improvement plan is critical for developing policies and defining actions to target efforts that promote health. It should define the vision for the health of the community through a collaborative process and should address the gamut of strengths, weaknesses, challenges, and opportunities that exist in the community to improve the health status of that community. 
The underlying concept of the need for a CHIP is articulated in the Health Gradient graphic below. The individual is often powerless to overcome health hazards alone and a community effort, spelled out by a community's CHIP, is warranted to overcome issues that magnify health hazards such as poverty; inadequate food and nutrition; lack of education; unemployment; poor housing; and environmental health hazards.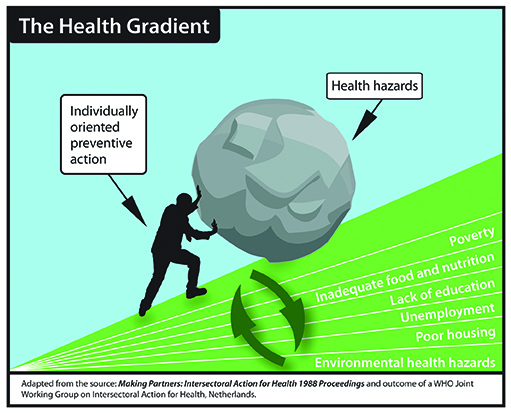 Back to News page