High Impact Prevention (HIP)
WellFlorida is reaching its goals for the High Impact Prevention (HIP) project. HIP aims to decrease the spread of HIV and link HIV-infected individuals to services. The program, which is funded by the Florida Department of Health, began in January 2013 and has expanded from three counties to five—now covering Alachua, Columbia, Lake, Marion and Putnam.
HIP has three components: Everyone's Doing It, It's Everyone's Business and ARTAS.
Everyone's Doing It provides outreach services,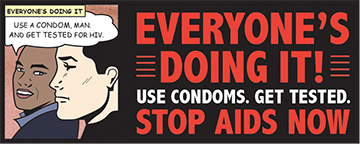 advocates condom use and facilitates free HIV testing at events, businesses and the WellFlorida office. Visit the website EveryoneStopAIDSNow.org for a list of free HIV testing sites in the five county area. Since January 2014, 225 people have been tested for HIV.
It's Everyone's Business is a partnership between WellFlorida and local businesses interested in sharing HIV prevention messages and materials with their customers, employees and neighbors. Some of the 28 participating businesses provide free condoms and serve as HIV-testing sites as well.
ARTAS (Anti-Retroviral Treatment and Access to Services) links HIV-positive individuals—those who have recently been diagnosed with HIV or who are HIV-positive and have not received care in the last six months—to the resources and medical care they need. ARTAS has enrolled 25 new clients this year.
Learn more about the project at EveryoneStopAIDSNow.org.
Back to News page