Free Training: Improve Patient Care Through Collaboration
Rural Health Partnership, WellFlorida Council and the Florida Department of Health are hosting a free course entitled Critical Access Hospitals and Regional Trauma SystemPartners Improve Patient Care Through Collaboration. The agenda for this training session will include:
Regional Trauma Plan
Uniform Trauma Transport Protocols
EMS and Emergency Preparedness Issues for Critical Access Hospitals
Pediatric and Geriatric Trauma
What to Do for Trauma Patients (coding, assessment, treatment, etc.)
Quality Assurance for Transportation and Care
Continuing Education Units (CEUs) for nurses and other health professionals have been applied for through Suwannee River Area Health Education Center (AHEC).
The course is scheduled for:
Wednesday, January 17, 2018 from 10 to 11:30 a.m. at Shands Live Oak Regional Medical Center, 1100 SW 11th Street, Live Oak, FL.
Pre-registration is required. For more information, please contact Tara Hamilton at Shands Live Oak at phone 386-362-0810 or by email at Tara.Hamilton@shandsliveoak.com.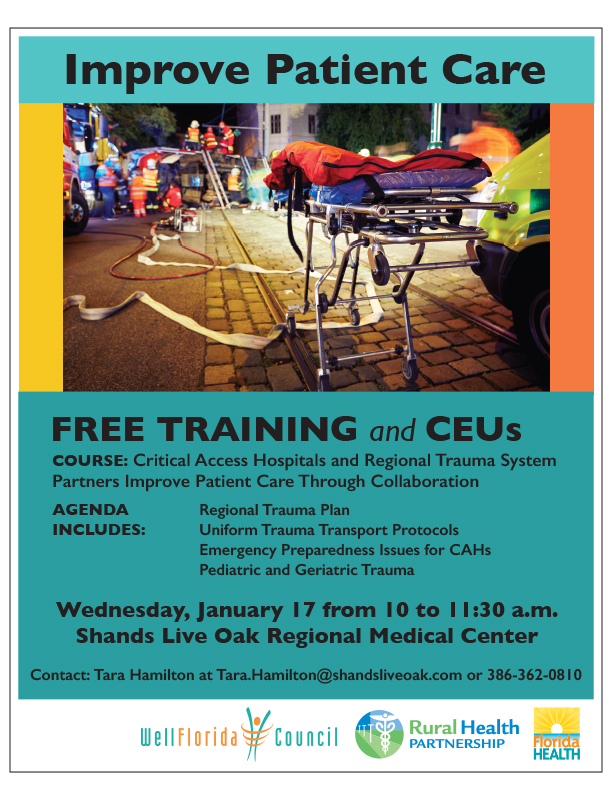 Back to News page