Update for NCF Safety Net Healthcare Providers Directory
The North Central Florida Safety Net Healthcare Providers Directory has recently been updated. This directory lists free or affordable healthcare providers in North Central Florida.
Many individuals fall short of qualifying for assistance from Medicaid, tax credits, or other cost-sharing reductions offered through the Marketplace. WellFlorida created the directory to better assist its Health Insurance Marketplace Navigators in helping low-income adults and children who fall into Florida's coverage gap to obtain healthcare.
Find the updated directory online or download it at our resources page.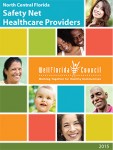 Back to News page