WellFlorida wins awards for public service advertising campaigns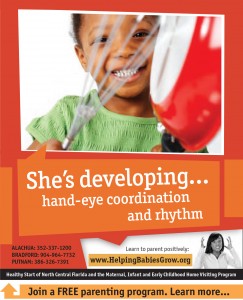 WellFlorida Council was recently awarded a Gold ADDY and the Larry Edwards Public Service Award by the Gainesville chapter of the American Advertising Foundation (AAF). The awards are for a public service campaign for the Maternal, Infant and Early Childhood Program (MIECHV). Jill Dygert, Art Director and Communications Manager of WellFlorida, is credited with the creative direction, graphic design and copy writing for the campaign.
The purpose of the campaign was to show parents that children's behavior (though challenging at times) is linked to their developmental stages, and to recognize that parenting can be difficult and that help is available through a free parenting program, the Maternal, Infant and Early Childhood Program (MIECHV), which is managed by Healthy Start of North Central Florida.
The integrated campaign consisted of the following media: articles and print ads in regional newspapers, Facebook advertising, lawn signs for events, internal bus signage on targeted routes throughout Gainesville, two radio spots produced by and aired on Magic 101.3, a poster and consumer "club" cards. The club cards were distributed throughout Alachua, Bradford and Putnam counties at health departments, laundry mats, restaurants, quick stops and more. The campaign also included rack cards, which were distributed to healthcare providers and agencies, encouraging them to refer their clients to Healthy Start for enrollment in MIECHV. See examples of the campaign materials.
All campaign materials directed the audiences to the website HelpingBabiesGrow.org where they can learn more about the MIECHV program, which uses an evidence-based home visiting model that offers parents the opportunity to learn about their child's growth and development and equip them with the knowledge, skills and tools they need to assist their children in being healthy, safe and ready to succeed in school.
MIECHV and the campaign is funded by the Florida Maternal, Infant and Early Childhood Home Visiting Initiative.
Healthy Start of North Central Florida is an Affiliate Partner of WellFlorida Council.
Back to News page